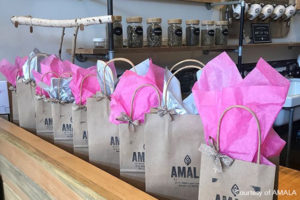 by Mackenzie Rodgers, Digital Content Coordinator
Need to get away with your BFFs Hiking, drinking, and laughing Tuolumne County has a little bit of everything you could want. Did you know that Tuolumne County makes up over 50% of Yosemite National Park And let me tell ya, theres nothing like a 4-mile hike to Wapama Falls in Hetch Hetchy at Yosemite National Park to forget about the worlds problems.
Release Your Free Radicals Soak your tired feet in a cleansing detoxing tub and sweat it out in the chromatherapy sauna at Amala Detox and Tea Lounge in Historic Downtown Sonora. Amala showcases tea tailored to soothe your ailments, infrared sauna and esthetician services.
Retail Therapy With a newfound spring in your step, browse high end boutiques and antique shops, as well as art galleries and local gift shops. Find fun soaps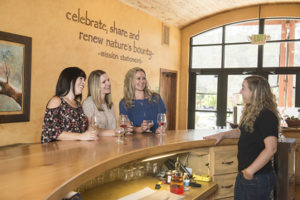 and home accessories Mountain Home Gifts and take a piece of Tuolumne County home with you. And, come say when youre here, since were here too (at 193 South Washington St.)
Wine and Cider Tasting On your way back from Yosemite Stop in Groveland at Yosemite Cellars to taste complex wines grown from grapes right here at the vineyard. Jamestown boasts two great places to hang out and sip unusual wines: Inner Sanctum Cellars and Gianelli Vineyards. Down the road in Sonora,Indigeny Reserve offers tours and tastings of their legendary local cider and spirits. Picnic in their organic apple orchard and walk it off on their well-maintatined trails.
Lively Theatre Within the Columbia State Historic Park, the Fallon House theatre dates to1859 and has been handsomely renovated. The Sierra Repertory Theatre produces musicals, comedies, and dramas year-round.
Creativity Unleashed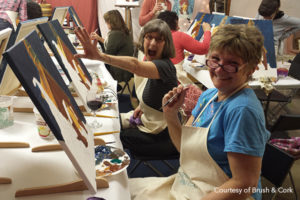 Get it out of your head, get it on paper. With paint. Brush and Cork supplies you with everything you need for an expressive night of wild inspiration. Everyone can be an artist with their easy-to-follow, step-by-step instructions. Leave your inner critic at the door.
High Sierra Yoga Adventures Mountain Om Yoga hosts seasonal retreats around the county at venues like Kennedy Meadows Resort and Pack Station and Emigrant Wilderness Lake. Combine yoga with day hikes, camping under the stars on the Stanislaus National Forest or backcountry horseback riding.
Visit www.VisitTuolumne.comto find lodging, including quaint B&Bs, cabins and more, for your perfect girls trip to Tuolumne County.