It's a fisherman's paradise in Tuolumne County. From the alpine lakes of the High Sierra to the foothill reservoirs to the Tuolumne River, they're the perfect spots for anglers of all experience and variety. Fishing the Emigrant Wilderness lets you get off the beaten path, take in the breath-taking beauty of the High Sierra and keep yourself supplied in fish dinners for your trip. You can also fish on the Stanislaus National Forest and in Yosemite National Park, there are plenty of water ways to test your skill. With so many locations to choose from we thought wed give you a good starter list. We are sure these spots will get you hooked!
Yosemite
Hetch Hetchy
If you have a hankering to do some fishing in Yosemite, Hetch Hetchy Reservoir is calling your name. Its not generally a place you think of fishing, but nestled in the northwest corner of Yosemite National Park, you are not only sure to reel in a beauty, but you'll surely be awed by the beauty surrounding you. No swimming or boating is allowed in the reservoir but cast your line year-round!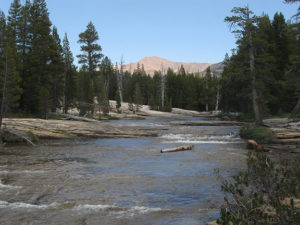 Tuolumne River The Tuolumne River meanders through Yosemites spectacular alpine meadows and high country landscape. This is the ultimate for relaxing trout fishing once Highway 120 (Tioga Pass) opens for the season through November 15th.
High Sierra
Pinecrest Lake
Located just 30 miles outside of Sonora along Highway 108, Pinecrest Lake is a traditional favorite for of fishing and recreation! The lake is regularly stocked with rainbow trout. You can fish from the accessible pier or the shore or launch your boat. In addition to catching your fill of trout, theres also camping, swimming and a 4-mile hiking trail around the lake. If camping isnt quite your style you can enjoy a cabin or a townhouse at Pinecrest Lake Resort. The adjacent marina has paddle boats, kayaks, party boats, sailboats and motorized fishing boats for rent.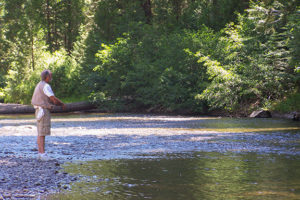 Stanislaus and Tuolumne Rivers Not only are Tuolumne Countys rivers beautiful, but theyre also swarming with wild and stocked trout just waiting to bite at the end of your line. Check the Stanislaus National Forests website for some spots along Hwy 108 or Hwy 120.
Gold Country
Lake Don Pedro
Set amongst the rolling foothills of the Tuolumne County countryside, Lake Don Pedro is open to fishing year-round. Cast your line for several bass, land-locked salmon and trout species, to name a few. For the first time, Lake Don Pedro will be one of the locations of the 2018 Wild West Bass Trail Tournament in March. Watch VisitTuolumne.com or our Facebook page for details as the event gets closer. Two marinas, campgrounds and swimming and picnic areas make the lake a great spot for the whole family.
New Melones Lake
The lake is most noted for its small and large mouth bass, but youll also find salmon, crappie, trout, catfish and blue gills. Try your luck in one of the many fishing tournaments held at the lake throughout the year. Check out the Bureau of Land Managements page on Fishing at New Melones Lake for more detailed information. After fishing you can take in the flora and fauna of the area on one the many trails. There is plenty of camping and the marina offers houseboat, patio boat and water toy rentals to double the fun you can have at the lake.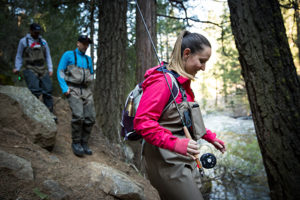 Guides
Yosemite Fly Fishing Guide Let Yosemite Fly Fishing Guide service put together a private, customized fishing trip in Yosemite National Park. With over 1,300 miles of the rivers, creeks and streams within the park boundaries, Yosemite offers an epic array of opportunities to cast your line.
ECHO Adventure Cooperative ECHO Adventure Cooperative offers family, introductory and experienced catch and release fly-fishing excursions in Yosemite and in the Tuolumne River watershed.
Visit www.VisitTuolumne.comfor more information on all there is to see and do and to find lodging in Tuolumne County.