As the age old saying goes April showers bring May Flowers! Here in Tuolumne County we are fortunate to have a very long wildflower season thanks to our varying elevations. In fact, you can catch wildflowers here from March to September so long as you know where to go! We have put together some insider tips for catching that perfect shot or just smelling roses. As your out and about be sure to tag us in your Instagram posts so we can marvel at the beauty you discover. #VisitTuolumneCounty, #MyTuolumneCounty, #TuolumneCountyWildflowers. Check out this little delight we found near the Chinese Camp Visitor Center: https://www.instagram.com/p/BSBuAzUDL_r/
---
Yosemite National Park
Lets start by saying we would be crazy not to mention all the wildflowers you can spy while in the park! The park has put together some great resources for finding wildflowers within the park including a common wildflower illustration guide, a short video series, and a guide to wildflower trails. Common Wildflowers in Yosemite Yosemite Wildflower Video Series Wildflower Guide
---
Early Season March-May
Dragoon Gulch Trail
This 2.5 mile loop is a series trails that offer varying difficulty and plenty of flora to explore. The City of Sonora has created a great resource of what you can expect to encounter on the trail.
West Side Trail
The West Side Trail in Tuolumne is easily accessible perfect for morning or late afternoon leisurely walk or bike ride along the flower-lined path with fantastic vistas. The trails website is a great resource for planning you adventure.
New Melones Lake Area
This area is one of the earliest to bloom in Tuolumne County. The trails are generally easy without too much elevation gain. But if youre in for a little workout the wildflowers along with incredible views can be found along the Table Mountain Trail. In the spring, summer and fall the rangers of the New Melones Dam offer ranger led hikes teaching you about the wildflowers and history of the area. Check in with the Visitor Center for days and times to join in.
---
Mid-Season June-July
The Red Hills Recreation Management Area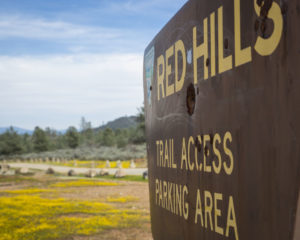 The Red Hills Recreation Management Area consists of numerous easy loop trails through the serpentine landscape and is a locals favorite for wildflower viewing. You may even cross paths with a road-runner while you explore. The area is located near the junction of Highways 49 and 120 in Chinese Camp.
Big Trees State Park
While the BIG TREES do not exactly grow wild flowers, they are quite the sight to be seen. Do not worry there is no shortage of foliage growing in the area. You can expect to see Purple Milkweed, Pearly Everlasting, Wild Daisy, American Winter Cress, Red Snow Plant and Chinquapin. North Grove Big Trees Flower Guide South Grove Big Trees Flower Guide
---
Late Season August-September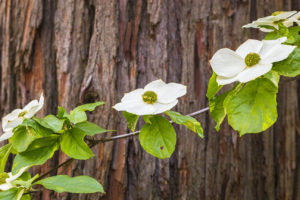 Emigrant Wilderness Area
If you are up for some serious off the beaten path foraging for flowers Emigrant Wilderness Area is quite a gem. There are several Day Hike options if overnight in the wilderness isnt your cup of tea. The Gianelli Cabin area offers a moderate trek of about 4.5 miles. You will see Spreading Dogbane, Bloomer's Goldenbrush, Purple Sand Spurry, and Scarlet Gilia to name a few.
Sonora Pass Area
If you have ever had an itch to get a small glimpse into the travelers of the Pacific Crest Trail, now is your chance. Along this more difficult trail you will run across Mules Ears, Sneezeweed, Blue Flax, and Wandering Daisy. Since this will be an out and back excursion you can decide how far you would like to go but suggest shooting for 2 to 3 miles before you turn around. Even if youre not a hiker, just a drive along Highway 108 towards Sonora Pass uncovers some hidden gems for wildflower viewing such as Kennedy Meadows.