The rain will go away, but in the meantime, here are some things to help you enjoy your stay.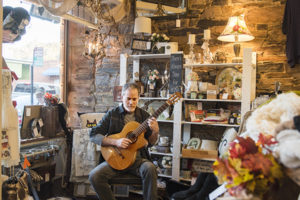 1. Shop Like a Local Don't let the rain stop you from exploring the ins and outs of the historic towns of Sonora, Jamestown and Columbia. Wander collectable, antique shops, or browse for the perfect rain coat in one of the many unique boutiques. Explore the inside of Sonora's iconic historic buildings that date back to the late 1800s. Legends has a cozy underground cave-like book store that is perfect for a midday escape from the rain with a peek at an actual gold mine.
2. Play a Few Frames Nestled in the hills of the town of Tuolumne, Black Oak Casino Resort has an excellent family floor that showcases a 24-lane Brunswick Bowling Center. It is open daily, and don't miss their local renowned Cosmic Bowling Friday and Saturday nights. Make the experience complete with a try at some of the many games at their newly renovated arcade and an all-American meal at their Mill Sports Grill.
3. Support the Artists Get a taste of the Northern Californian culture by wandering through the art galleries of Historic Downtown Sonora. Join the artists themselves in celebration of the traditional year-round 2nd Saturday Art Night on Washington Street where live music, small shops, and artists of all sorts make their debut.
4. Taste Tuolumne Put something warm in your belly and challenge the spirits at Indigeny Reserve. Try their organic hard cider and spirits in a welcoming tasting room surrounded by organic apple orchards. Go for wine tasting on Main Street in Jamestown and sip local indoors. If you prefer coffee or tea, get comfortable and enjoy a warm beverage and fun conversation in the warm parlor at Mountain Sage Cafe and Nursery or in the historic atmosphere at Columbia Kate's Teahouse.
5. See a Show The sky is gray, so spend the afternoon at a matinee. In Columbia State Historic Park, the
dates to 1859 and has been handsomely renovated. The Sierra Repertory Theatre produces superior musicals, comedies, and dramas year-round.
6. Go on a Museum Tour Tuolumne County is rich with history and there's no better place to get informed about the Wild West than from experts themselves. The extensive and fascinating Tuolumne County Museum and History Center is located in the old jail of Downtown Sonora and the nearby Firehouse Museum and Veterans Memorial Hall and Museum, or the Groveland Yosemite Gateway Museum in Groveland will leave you feeling educated and motivated to explore more of Tuolumne County.
7. Detox and De-stress Get inspired as the rain cleanses the earth, and refresh your body at Amala Detox and Tea Lounge. A rainy day calls for hot tea and a nice foot soak; you can get both at this centrally located lounge.
8. Take a Chance Saving for a rainy day What are you waiting for! Spend some time indoors and try your luck at one of two casinos in Tuolumne County. Black Oak Casino Resort in the town of Tuolumne will help you make the most of your great indoor experience, and Chicken Ranch Casino, with table games, slots and Bingo, is conveniently located just off of Highway 108 in Jamestown.
9. Lace Up Some Tradition Increase your elevation, bundle up, and feel the historic family tradition beneath your skates at Long Barn Lodge Ice Skating Rink and Event Center for ice skating. Families have been coming to this rink for generations. Open seasonally November through March, there is no better place for an indoor chill thrill on a rainy day.